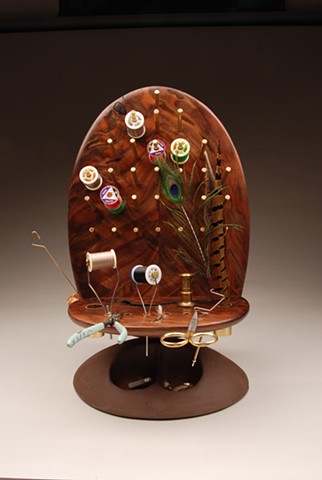 Rotating Shelf Fly Tying Station #37wss
Holds 55 spools, 3 magnet tool holders,
7 tube tool holders, 1 grey card/photo holder, one fly-hook-bead hollow.
walnut, conk mushroom, ceramic, brass, magnets
18" x 12" x 12"
2017
"Rotating Shelf Stations"
These Tying stations are unique in their functions and aesthetics and materials (highly grained hardwoods, "Conk" shelf mushrooms and ceramic bases). It is designed to be used on a table or desk top behind ones vise. A vertical backboard is made with a shelf on both sides, a "Conk" shelf and a wood shelf. This whole assembly is mounted on a handmade ceramic stoneware pedestal base and can rotate 360 degrees. The user can easily access both sides of the station. The storage side has numerous brass rods, tubes and magnets to efficiently hold spools of thread, wire, tying tools or other tying materials. Turn it 180 degrees and use the beautiful "clean" side with its' interesting wood like "Conk" shelf mushroom that holds a grey card. This card is used as a neutral, fixed depth background to reduce eyestrain and show the details and colors of your fly. When the grey card is not in tying mode the backside has a place to display your favorite fish or family photograph.
( Price of Tying Station is $370. Shipping in US is $20. Total is $390.00 )